S
ome of you'll think this is totally cool, while others horrible. Either way I've been spending some time on Flickr and youTube on the lookup for other Sweden supporters around the web and I came up with this guy who is probably much more sex focused than me but nevertheless had the great idea of merging his experience inside swedish disco into pictures and videos streams.
I hope the half of you finding it disgusting won't hate me for that, and the other half won't think that's all about Sweden there is.
So: here they come.
One of the most amazing photostream:
--> link
Same guy, but with videos:
--> link
Have a little sample of both: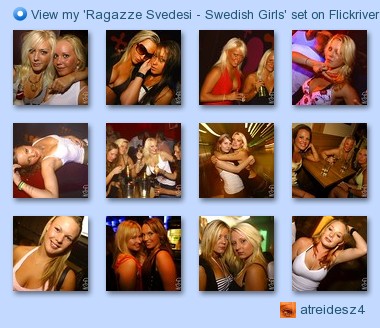 Watching these pictures I think of what it means to live in Sweden as I did for almost one year. It remembers me the reason why I hate italian discos where there are 70% boys and the girls behave like princesses. It makes me sad because I've had so much fun over there even with not that cool kind of girls, because they are nice and easy talking and always smiling and drinking like men.




Honestly: I've never been more then a few weeks away from Sweden and I don't know how long I'm going to be stuck here. Let's hope this won't be too long.






Not bad, ha?